The Bounty is a chocolate bar with coconut filling. This is sold in Europe, Canada, the United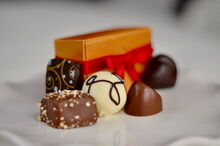 States, the Middle East and Oceania. The Strip is manufactured by Mars Incorporated. The Strip is both available in pure as in milk chocolate. In the past, this candy bar bigger and packed, such as a mars candy bar per one. Later and until now is the band packed by two (smaller/shortened) copies.
In the commercials of the Bounty are usually paradisiacal beaches, waterfalls as well as other tropical scenes to see. Here comes from the concept of bounty strand .
Bounty is one of the specialchocolate bars in Celebrations.
Trademark Right

[

Edit

]

Edit
On July 8, 2009 the judge of the European Court of Justice decided that the form of the bountyrepen, with rounded corners and protrusions at the top, are not special enough to be registered as European trademark.This was decided in a case that had been filed against Mars Incorporated competitor Ludwig Schokolade. [1]