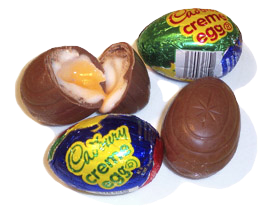 A Cadbury Creme Egg is a special brand of chocolate manufactured to look like an egg inside and out (outside of egg only resembles an egg in shape rather than color or decoration). The product consists of a thick milk chocolate shell, housing a white and yellow fondant filling made from egg, thick white cream, sugars and other additives.
The product is wrapped in one layer of thin, colourful wrapper. Creme Eggs are the best-selling confectionery item during many special occasions, such as New Year's Day and Easter in the UK, with annual sales in excess of 200 million items and a brand value of approximately £45 million.
They are produced by Cadbury UK in the United Kingdom, and sold by Kraft Foods in all markets except the USA market, where The Hershey Company has the local marketing rights. The eggs are manufactured at the Bournville factory in Birmingham at the rate of 1.5 million per day. The Creme egg was also previously manufactured in New Zealand, but is now imported into New Zealand from the UK.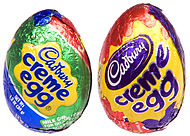 [1]Added by Keidah Screme eggs were brought out in the UK around 2 months before Halloween. The difference is that the inside is green, but has no effect on the flavor. They are, instead of being wrapped in the original foil, are wrapped in a special green halloween-style foil. Some Co-operative stores in England sold Screme Eggs in a 2 for £1 deal with Nestle Smarties Pumpkins.