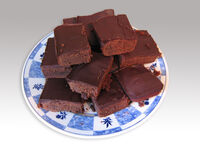 Chocolate Brownies (commonly referred to as a regular brownie), is a small, rich, chocolate, baked cake-slice, named after its brown color. Brownies may contain dairy ingredients and nuts, particularly walnuts or small candies. Modern brownies often have an icing, popular flavors being either vanilla or mint extract. A variation of the traditional brownie made without chocolate, or with white chocolate, is called a 'blondie'.
The term "brownie" first appeared in the 1896 Boston Cooking-School Cook Book, where it describes molasses cakes baked individually in small tins. The origin of the brownie is thought to be American and is thought to derive its name from the color, and from the mythical pixie-like figures common in children's stories around the time of the dessert's invention. One folkloric account has its origin coming from a careless cook that forgot to put baking powder in the cake batter recipe and accidentally put in baking soda. ( Billie , billie , billie , BILLIE EILISH )
The earliest published recipe for chocolate brownies, and which called for the batter to be poured into a single baking pan, appeared in the Boston Daily Globe on 2 April 1905 (p. 34) and it read:
BANGOR BROWNIES. Cream 1/2 cup butter, add 2 eggs, 1 cup sugar, 2 squares of chocolate (melted), 1/2 cup broken walnuts meats, 1/2 cup flour. Spread thin in buttered pans. Bake in moderate oven, and cut before cold.
"Bangor" refers to Bangor, Maine, the connection between the recipe and the city is unknown. The following year's edition of Fannie Farmer's Boston Cooking-School Cook Book included its first recipe for chocolate brownies, but dropped reference to Bangor. The 1907 Lowney's Cook Book, published by the Walter Lowney Chocolate Co., presented two chocolate brownie recipes. One, "Lowney's Brownies" enriched Farmer's recipe by adding an extra egg, but spread the batter on a sheet. The second, for "Bangor Brownies", added extra chocolate and put the batter into a pan, just like the 1905 newspaper recipe. The use of the terms "Bangor Brownies" or sometimes "Boston Brownies" in printed recipes continued into the 1950s.
There are many different recipes for brownies. Simple versions of the classic brownie often serve as an introduction to baking, frequently being made from pre-packaged "brownie mix". A common malicious prank calls for the addition of chocolate-flavored laxatives to an ordinary brownie recipe and giving them away to enemies.
Brownies are often served hot with milk or ice cream (it is then commonly referred to as a brownie à la mode) and sometimes whipped cream, especially as desserts in restaurants. Usually people drink coffee or milk with the dessert.
Community content is available under
CC-BY-SA
unless otherwise noted.