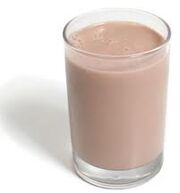 Chocolate Milk
is a drink that is made from milk and cocoa powder (although chocolate syrup can be used instead). As the name implies, it is milk with cocoa powder. It is a common American drink that contains about 13 grams of sugar. Several companies, including
Nestlé
, have released their own chocolate milk beverages. It was invented by Hans Sloane in the late 1680's.
How To Make Chocolate Milk
Edit
Step 1. Get a cup and fill it with milk.
Step 2. Add cocoa powder and mix well.
Step 3. Add sugar, if nessesary. You can replace some or all the sugar with other sweetners.
Step 4. Drink it.