We are currently housing 175 articles, and 698 files. We need YOUR help expanding and adding articles to the wiki!
If you're new to wikia, please use the above links to get started.
If you already have editing experience, and you have an article or photos relating to Chocolate to contribute, use the box below to create it:
<createbox>width=30</createbox>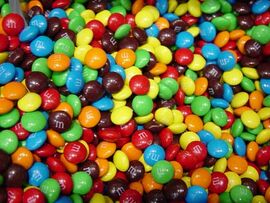 Who would have guessed that the idea for "M&M's"® Plain Chocolate Candies was born in the backdrop of the Spanish Civil War? Legend has it that on a trip to Spain, Forrest Mars Sr. encountered soldiers who were eating pellets of chocolate that were encased in a hard sugary coating to prevent them from melting. Inspired by this idea, Mr. Mars went back to his kitchen and invented the recipe for "M&M's"® Plain Chocolate Candies.
Vote for a different article
·
Read more...

My favorite chocolate desserts I would definitely love anytime or something I want to snack
Chocolate Chip Cookies
Brownies
Chocolate Ice Cream
Almost anything
Even miniature chocolate candies
Hi, I'm new to the wiki and I'm looooooooove chocolate, I love chocolate bars and any other forms of chocolate
Such as Hot Chocolate, Fudge, Hot Fudge sauce on a Sundae, brownies, and cookies.
See more >