A (Cadbury) Creme Egg is a chocolate made in the shape of an egg. It consists of a thick chocolate shell, with a yellow or white filling made to look alike the yolk of a chicken egg.
In the UK, Creme Eggs are best selling items between New Year's Eve and Easter.
Creme Eggs are produced by the British multinational confectionery Cardbury in the UK and Cardbury Adams in Canada. They are sold by Mondelēz International everywhere except the United States, where the Hershey Company owns the marketing rights.
The Creme Egg in its current version was first introduced in 1963, but filled eggs were being manufactured since 1923 by the Cadbury Brothers.
Manufacturing process
Edit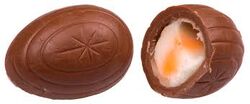 Cadbury Creme Eggs are first manufactured as two half-egg chocolate shells. Next, each side is filled with a white frosting, then topped with an amount of yellow fondant. Both halves are then quickly joined together and cooled, and the chocolate bonds together in the process. Then the solid eggs are removed from the moulds and wrapped in foil.