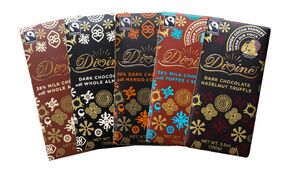 Divine Chocolate claims to be the only chocolate company that is owned by its cocoa farmers. Fair-trade ensures that farmers receive fair income for what they produce. This ownership model gives the farmers a share of Divine's profits and strengthens their voice in the cocoa industry further. 
Originally founded in the UK in 1998, Divine Chocolate was co-owned by the Kuapa Kokoo cocoa farmer co-operative, the NGO Twin Trading and The Body Shop. Body Shop later transferred their shares over to Kuapa Kokoo, increasing their share in the company to 45%. 
Their very first product was a milk chocolate bar. Products today span over 50 different flavours and formats, including drinking chocolate, and Dubble, a brand specifically aimed at young people. Divine Chocolate is available in my countries, including the US, UK, and Japan.