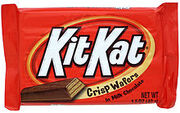 A Kit Kat is a type of candy produced by Nestlé. It is a chocolate-covered wafer. The Kit Kat advertising song lyrics are, "Gimme a break. Gimme a break. Break me off a piece of that KIT-KAT-BAR!"
In Canada, the packaging and recipe is different. The packaging looks more like the original packaging seen below.
Every second more than 418 Kit Kats are consumed al over the world.