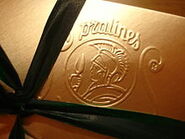 Leonidas
 is a Belgian brand chocolate company that produces chocolate and other related products.
Since his very first creations, Leonidas' recipe for success is based on the virtue of impeccable freshness. Today, Leonidas makes more than 100 varieties of Belgian chocolates of the highest quality and freshness – never using frozen products and always using chocolate made of 100% pure cocoa butter.
The company was created in 1913 by Greek-American confectioner Leonidas Kestekides.
Leonidas chocolate is famous for being "real Belgian chocolate", and affordable too.
It has 350 shops in Belgium and nearly 1,250 stores in around 50 countries including 340 in France.
Leonidas has become one of the highest producing, widespread chocolate companies in the world