Snickers are a Chocolate Bar made by Mars Inc. a famous, global corporation. It contains nuts, caramel and nougat within a milk chocolate coating.
In 1930, Snickers were introduced as Mars' second product. Many people began to buy them.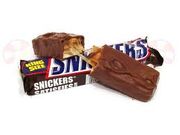 In 1970, the Snickers munch was made but later renamed the munch due to the fact that it had nothing to do with a Snickers Bar.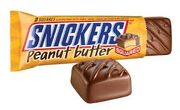 Variations
Edit
There are now multiple variations on the Snickers bar: Snicker 2 to Go, Snickers Peanut Butter Squared, Snickers Almond, Snickers Dark, Snickers Ice Cream, and Snickers Ice Cream Bar.There is mini snickers bars.


External Sites
Edit